Shopping Cart
Your Cart is Empty
There was an error with PayPal
Click here to try again
Thank you for your business!
You should be receiving an order confirmation from Paypal shortly.
Exit Shopping Cart
Terrific Terrariums & Fairy Gardens

Turning your world into a miniature fantasy!
| | |
| --- | --- |
| Posted on May 12, 2017 at 1:00 PM | |
An idea is born....
As you all know I am besotted with all things miniature. Last weekend I decided to take this passion to a new level...combining my love for miniatures, gardening and books.
Well after a little bit of psyching myself out because as a book lover cutting up a book is a big no no. Once I had convinced myself that the book had severed its purpose many years ago - an encyclopedia which is now very outdated, I began my project.
Begining by first looking for a page that would become part of the display, I selected a page showing John Quincy Adams, the sixth President of the United States of America. A very distinguished looking fellow.
The work begins....
Using Selleys Interior Quickset Aquadhere PVA Clear Drying Glue I bound all the pages together and gave the display page a coating of glue which would protect the book from any water splashes or ink smudging in the future. After some scratching in my hubby's tool kit I came accross some clamps which were used to clamp the glued pages of the book together. These pages would later become the container for my miniature garden.
The work out....
I have to say I really was not prepared for the work out on my arms and hands with all the cutting and shredding of pages! This is not a one hour project...so if you are planning on making this gorgeous book garden then set aside at least 4 hours (p.s. I did take a tea break in between :D). Using a craft knife I began the task of cutting a square in which to create my miniature garden. At this point it is important to remember that the top centimeter needs to be kept neat, but from then onwards don't be a stickler for perfection because you may go mad in the process hehe. It took almost three hours of cutting and shredding to get to the stage where I was satisfied that the container was deep enough to house the succulents and cacti that I would be planting in the miniature garden.
Once I was satisfied that my book planter was deep enough I lined the inside with clingwrap, any good quality clear plastic will do. Once the edges were trimmed Selleys glue was used to glue down the clingwrap to the book preventing future water leakages.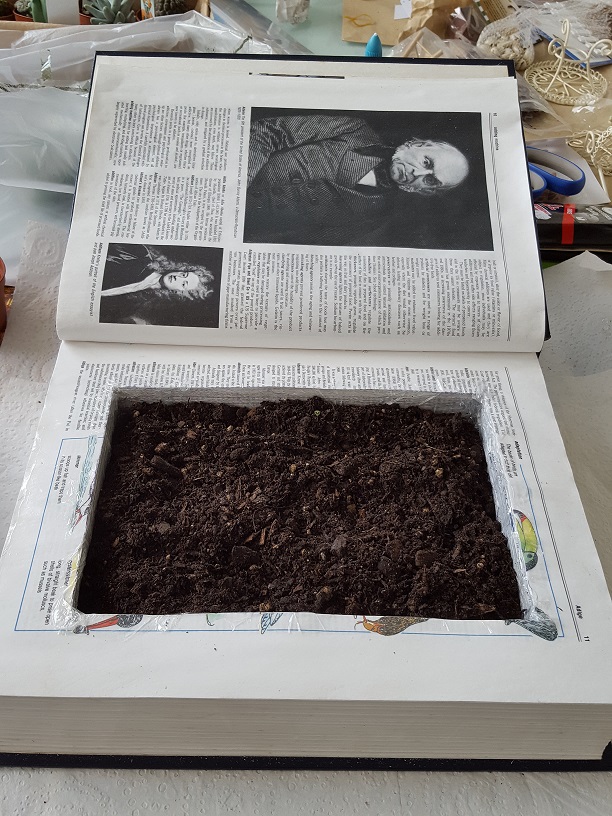 Now the fun part...
Because the book obviously does not have a drainage hole I placed a layer of pebbles so that the roots of the succulents and cacti would not get water rot should I accidentally over water. Very important at this point to remember to place a layer of charcoal which will keep the soil fresh for longer and reduce any odours. Choose a good quality potting soil specifically to the type of plants you have chosed for your miniature garden, I chose succulent potting mix. Make sure to put enough soil into the book planter. Pressing down to compact the soil will help the plants maintain their positions and your miniature items will not sink or tilt over.
Once the cacti and succulents were planted in their chosen positions I covered part of the area with Grit Red Gravel. On the left half of the book planter artificial moss was used. We stock a really good quality artificial moss which when damp smells just like the real thing :).
Let's get creative..
Of course I had brought home many more miniature pieces than was needed but like any true creative spirit ideas can change at a whim.. After trying several benches, chairs and birdhouses I decided I had found the group of miniatures that worked well toghether.
Finishing touches..
Of course no miniature garden or fairy garden is complete without adding the final whimsical pieces, I chose grapevine wreaths, polished pebbles, fine beach sand, wooden picket fences and the pièce de résistance - terracotta pots.
The result..
A project well worth the effort! I loved every moment of making this book planter and you will also. This book planter now owns pride of place in our family room and receives lots of oohs and aaahs from our visitors.
All items are available in our webstore.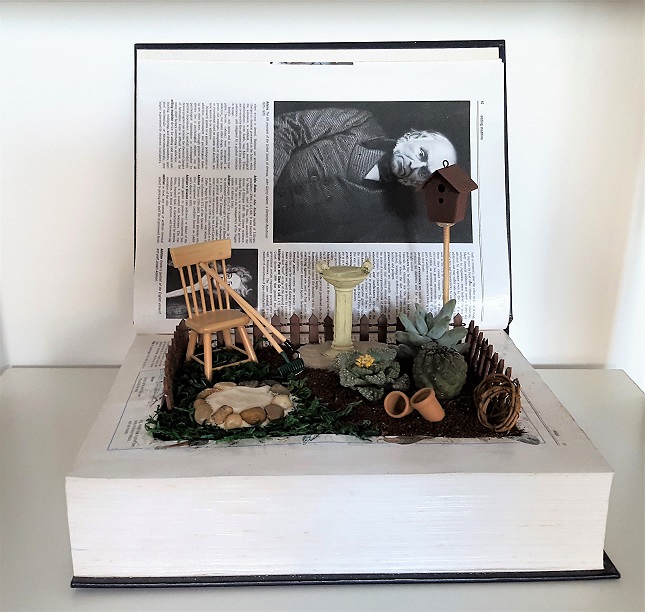 Categories: None

Comments are disabled.

0

/