Shopping Cart
Your Cart is Empty
There was an error with PayPal
Click here to try again
Thank you for your business!
You should be receiving an order confirmation from Paypal shortly.
Exit Shopping Cart
Terrific Terrariums & Fairy Gardens

Turning your world into a miniature fantasy!
| | |
| --- | --- |
| Posted on June 24, 2018 at 7:45 PM | |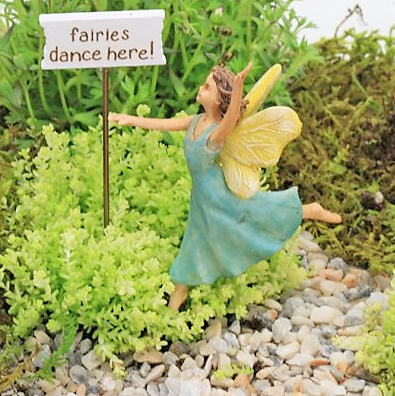 Although International Fairy Day is formerly celebrated on 24 June each year, we choose to celebrate this holiday for a whole week!
While the origins of this "holiday" are unknown, this special day celebrates those very special, diminutive beings with wispy wings and magical powers that leave a trail of fairy dust in their wake.
Whether you see them as small winged tenders of the deep natural places of the earth, or as tall stately figures with fair skin and hair, there's one thing for certain. The world has been absolutely captured by the Fairy Craze. These creatures appear on everything from mugs to t-shirts and have been the subject of children's fairy tales and even supernatural romances. Fairy Day celebrates these incredible mythological creatures that have captured the imagination of people everywhere and their diverse history.
History of Fairy Day
Fairies have existed in just about every culture over the world, though they may have been called by different names. What they have in common, no matter where you go, is that they are spirits that inhabit the world around us and often operate by strange and often odd laws. That's about where the similarities end, and where the amazingly diverse concepts that are the fae begin.
We've all heard of the winged fairies that flit around flowers and are always drawn like butterfly winged cherubs of slight form, but did you know that Dwarves and Gnomes are also part of the fae family? These creatures were common among the Germanic folk, and especially those who worked in mines and mountains. Knockers were a form of fairy that lived in mines and would 'knock' to warn miners of pending cave-ins and danger, hence their name.
The red-hatted gnomes that occupy so many people's gardens were fashioned after creatures from the far north. These quiet and unassuming creatures were part of the dark northern forests and spent their time living near the homes of humans, which they'd sometimes help out.
There's even fae that lives in the oceans like the Irish Selkie, dark of hair and eye, these creatures were able to turn into humans. Turn into humans we say? Yes! They started lives as seals and would take off their skin when they came ashore and take the form of beautiful women.
If one were lucky enough to steal their skin they'd be able to take a Selkie wife, so long as they didn't let the skin be found!
Many famous fairies have flown into the hearts of both young and old alike.
Tooth Fairy – Besides Santa Claus and the Easter Bunny, the Tooth Fairy ranks pretty high with the younger crowd. Imagine that wide, toothless smile from the little boy or girl who discovers the Tooth Fairy has made a secret visit during the night and left a little surprise in exchange for a tooth underneath his or her pillow.
Tinker Bell - When it comes to fairies, Tinker Bell (Tinkerbell) is probably one of the world's best known and beloved fairies. "Tink" is the feisty, fictional character from the famous James M. Barrie's classic, Peter Pan. She also serves as the unofficial mascot of the Walt Disney Company.
The Fairy Godmother – First made famous in the story of Cinderella, Fairy Godmothers' help make all your wishes come true. Everyone needs a Fairy Godmother to watch your back, right? Gather up the kiddies and listen to the story of Cinderella.
Sugar Plum Fairy – Based on the story, The Nutcracker and the King of Mice, the Sugar Plum Fairy greets the Prince as he escorts Clara to the Land of Sweets in the famous Nutcracker Ballet.
Thumbelina – Watch and listen to Hans Christian Anderson's tale about a wee fairy no bigger than a thumb.
Puck – Prankster Robin Goodfellow, Hobgoblin or Puck was one of the main characters in William Shakespeare's Midsummer Night's Dream.
How to Celebrate Fairy Day/Week
We choose to celebrate our favourite mythical beings for a whole week instead of just one day!
International Fairy Day! Fairy Day! World Fairy Day! It is a day or week for all to don their fairy wings, trail magic fairy dust where ever they go, dance barefoot on the grass, tinker in miniature fairy gardens, drink steaming hot flower tea and nibble on fairy bread and cakes….
Which ever way you choose to celebrate fairies - have fun and enjoy!
Categories: None
Comments are disabled.
/